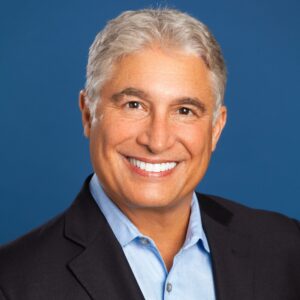 Broker / President
CA DRE# 01182660
Mr. Kosmont holds a Master of Public Administration Degree from the University of Southern California and a B.A. in Political Science from the State University of New York – Binghamton.
Mr. Larry J. Kosmont, CRE®, Broker, is President of Kosmont Real Estate Services, doing business as "Kosmont Realty" (KR), a real estate brokerage firm. He is also Chairman & CEO of Kosmont Companies, an industry leader in public/private real estate transactions and economic development. Mr. Kosmont is also a Principal of California Golden Fund, an approved EB-5 Regional Center.
During Mr. Kosmont's distinguished 40-year career, he has assisted hundreds of local government agencies and private sector developers/land owners and investors on real estate matters ranging from large-scale economic development programs to site-specific property acquisition, sale and lease of land and developed  projects,  and ground lease transactions. Mr. Kosmont has extensive experience as a broker and has implemented transactions that include undeveloped land, mixed use, industrial, office, retail , market rate and affordable housing, TOD sites, apartment projects, hotels and specialized uses such as golf courses, storage and incubators.
Mr. Kosmont has served in the roles of City Manager, Director of Community Development, and Redevelopment Director in the cities of Santa Monica, Seal Beach, Bell Gardens, and Burbank. He also previously served as a contract Interim City Administrator for the City of Montebello, CA.
Purchase of coastal properties in Redondo Beach Waterfront for City
Acquisition of land for large High School campus, Juniper Sierra, San Juan Capistrano
Acquisition of 40 acres of downtown Burbank as part of downtown revitalization
Sale of various RDA Dissolution properties throughout California
Sale of 30 acre site for azalea Retail Center in South Gate, CA (~370,000 sq. ft.)
Mr. Kosmont is a registered Municipal Advisor with the U.S. Securities and Exchange Commission, a Real Estate Broker licensed by the State of California Department of Real Estate, a designated Counselor of Real Estate, CRE®, and has served or is serving on:
Pepperdine University, Graziadio School of Business – Board of Directors
USC Executive Education – Board of Directors
Westside Neighborhood School – Board of Directors
State Commissioner – California Economic Development Commission
Metropolitan Water District (MWD) – Board of Directors (represented City of Los Angeles)
Commissioner, City of Los Angeles – Industrial Development Authority
City of Manhattan Beach Economic Development Advisory Council – Chairman
California Association of Local Economic Development (CALED) – Board Advisor
Los Angeles Business Federation (BIZFED) – Board Member
Mr. Kosmont has recently been nominated as a Commercial Real Estate: Trends, Updates and 2021 Visionary. He is also the recipient of the 2016 California Business Properties Association (CBPA) Champion of the Industry Award for his service in real estate and economic development, and the John H. Nail Award from the League of California Cities for State's Outstanding Assistant City Manager.